Code Name: Hunter
Latest Update
02.17.2017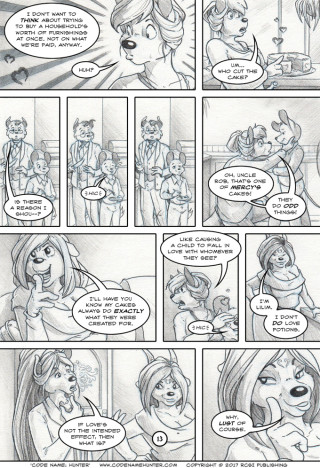 Current Issue:
Max and Nyx are out of Fey, but all is not well. Max's actions have left the Summer and Winter courts out of balance. While Max begins healing, Moraine deals with Jack Frost and plans for the future. As for Puck... if one plan fails, move on to the next one.
A Year and a Day
Latest Update
02.15.2017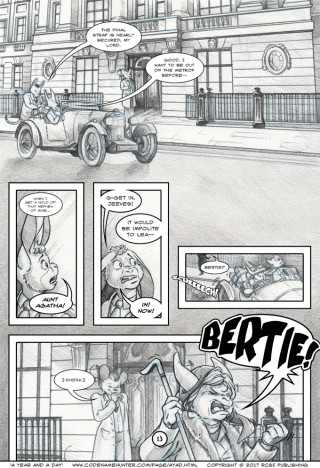 Current Issue:
It's Allen's afternoon off and he's visiting a friend, hoping for some insight into his current situation. Unfortunately, Fredrick's already made his move. While Moraine and Allen deal with the results of Catherine's decision, the new moon begins to rise. The Hunt is on...
More From Darc:
Good afternoon, fellow book lovers! This Vintage Friday I have a rather beat-up old veteran to share with you… English Life in the Middle Ages by L. F. Salzman.

Now some of you are probably wondering why I'm sharing this grotty old book. Seriously, it looks like it's been through hell – the inside is even worse. The reason I'm sharing it is… this book is a bit of a mystery to me. There are a couple of odd things about it that make me very curious.

First off, there's no publication year. No big deal, most older books don't contain one. Still, by using the publisher's name, along with various identifying marks contained inside and on the cover, I can usually get a good estimate of when the book was printed. Based on what I have, I discovered this title was printed by this publisher in the years 1926, 1927, 1928, 1937, 1941, and 1945. Considering the lack of publication year or previous print runs listed, I'm assuming we're looking at one of the earlier years. The thing that throws me about this one is… the cover and condition of the binding. It feels like an after market library binding.

My degree, as I've mentioned previously, is in library and information science. I've my MLS and worked as a department head post graduation. Before that, I spent most of my high school years and a chunk of my college years also working in a public library. When a book became too damaged to circ, the library I worked at throughout high school would send it off to a bindery to be recased in what we referred to as library binding. The books that came back were plain, yet extremely durable. The material on the cover started out feeling very stiff, but would eventually – through heavy handling – become almost fuzzy in places.

The cover of this book doesn't really feel like something from the same decade as the pages inside. Also, the binding is very stiff. Stiff to the point where the book is hard to open in spots.

This is as far as I could open the book without fully snapping the stitching. Not too unusual, except this is clearly a well used book. Also, the text on many of the pages is extremely close to the spine groove, making reading a little difficult. These are both things that tend to happen with after market library binding. 

Another interesting thing about it is the call number on the spine, DA185.S25. This is not from the Dewey Decimal Classification System – 185 in Dewey is Aristotelian philosophy. History of England and Wales, meanwhile, is in 942. I did a bit of searching and it looks like the system being used is the Library of Congress Classification System. The DA185 part is easy to decipher…

The .S25 is the confusing bit. Subclass S is for Agriculture (General), with S21-S400.5 for Documents and Other Collections. I guess that might work, but it seems a little off. While agriculture was important to Medieval life, the book covers all aspects, not just farming. Maybe the S is for Saxon and the 25 takes us back up to History of Great Britain, England, General. I'm not sure. Since my intention was to work in public libraries, my training focused on Dewey Classification. LOC is uncharted territory for me.

However old it might turn out to be, this is an interesting book that has seen a great deal of action – most of it likely after it was discarded from whichever library originally owned it. I ran across it up in Northampton, MA where there's a fairly prominent liberal arts college located. Based on the wealth of Medieval books available in the shops, they must have a strong Medieval Studies program. Students likely have been picking this book up from used shops, reading it for class, and then selling it back to the shops for a while now. And, it seems many of them have left their mark.

Some of the notes in the margins are related to the text.

Others seem more like social commentary.

There are also a number of math equations scattered throughout for some unknown reason.

As well as some interesting illustrations.

While hardly the prettiest one on my shelves, it's a neat old book which may have some useful information in it for the upcoming Astorian arc of the comic.

Thank you for joining me today! I'll return next week with another old beauty to share with you. Until then, take care!