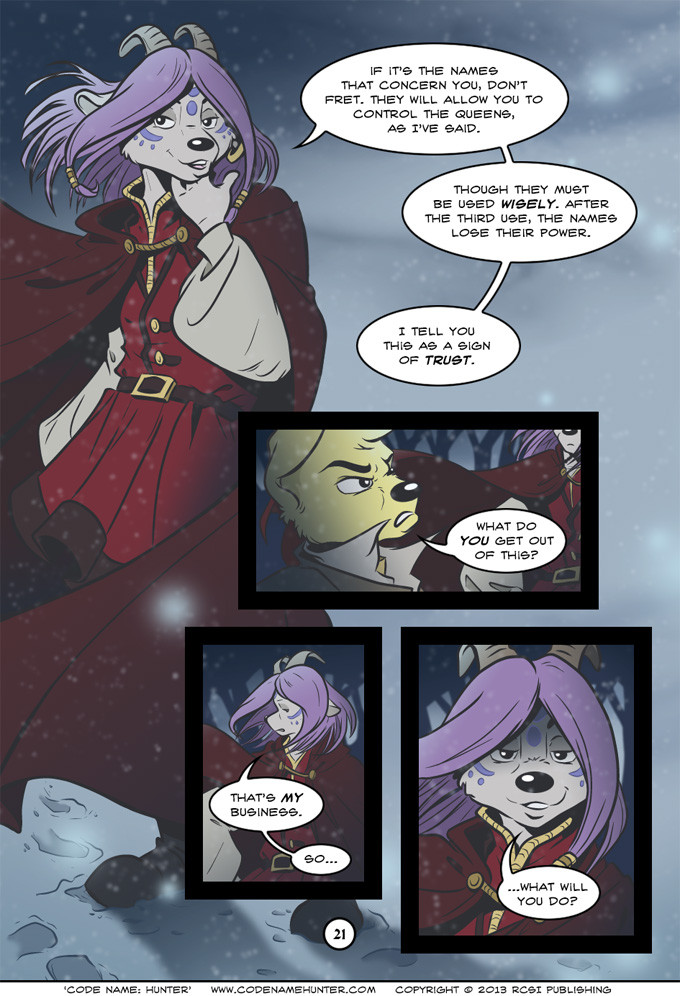 Don't worry. We'll find out what Puck gets out of all this eventually.
Between the Panels
*gets up*

Ugh, between the wrist giving me crap and the migraine that started Wednesday, this week's been hell. Still, the pain seems to have gone down a bit. Maybe I can start work on Monday's page today.

*reads comments on today's page including the 'you're going to redraw this cover you drew months ago because the story altered slightly and some things aren't popping up in the issue anymore, right?' one*

*stares at screen*

*feels pain in the head increase exponentially*

*blinks*

*slowly reached out to turn off computer*

*crawls back into bed for rest of the day*


Quinn: "And then the other thing is, who came up with the name 'tennis bracelet' anyway? It sounds like some kind of a sweatband, if you ask me. You know what I'd name them? Wrist ornaments. It's like a tree ornament, only for your wrist. Doesn't that sound festive?"
Jane: [frazzled] "Take.... her.... now."
-- Daria
[Leave a Comment]
---
Between the Panels
Morning guys. I've the remaining pages of Issue 17 thumb-nailed and waiting to be drawn out. I'm really looking froward to drawing next week's pages. Only five more to go!
Today's is for working on tomorrow's comic. I spent some time puttering around and working on other things yesterday which, while enjoyable, was apparently not the best for the wrist. The knuckles are stiff and sore today and there's a sharp pain around the base of the thumb. All of which sucks. But, I want to be sure this issue is finished before I leave for Jersey next weekend. So, we're going to push forward with tomorrow's update.
I'm going to attempt to get the full page done by this evening, but I'm working at a stilted pace at the moment. The coloring is the most uncomfortable part, so I may end up slowing down quite a bit once I hit that. If I can't complete the full page in time, I'll at least have the lettered inks up for the update. The colors will be finished by tomorrow afternoon.
I'm assuming I should be able to get the page finished in time, but just in case please excuse the slight delay in the coloring.
I'm going to make some tea, grab a bit more aspirin, and get back to work. Thanks guys!
"When life gives you lemons, make yourself a screwdriver."
-- Reba McEntire
[Leave a Comment]
---